SMTPing is finally released!
(News & notices)
A foreword from SMTPing's author, Alejandro Caballero
More than four months ago I started working on a network monitoring tool made in PHP to help my team and I detect issues over a client's WAN.
What started being a simple tool became a very nice thing. When I implemented some charts showing the falls in the network connection, I decided to take some steps forward and created more complex charts and some reports.
But every respectable monitoring tool, even the free ones, do that.
What I wanted to achieve was simple: to keep all the relevant nodes of the company's WAN at first sight on a single HD flat panel, easy to read from the other wall of the room. That's how SMTPing became what it is: a single-shot display of nodes, like those displays of LEDs used to monitor switch nodes in a NOC. No scrolling, no fancy maps wasting pixels, no irrelevant information... only the basic: Is it up or is it down?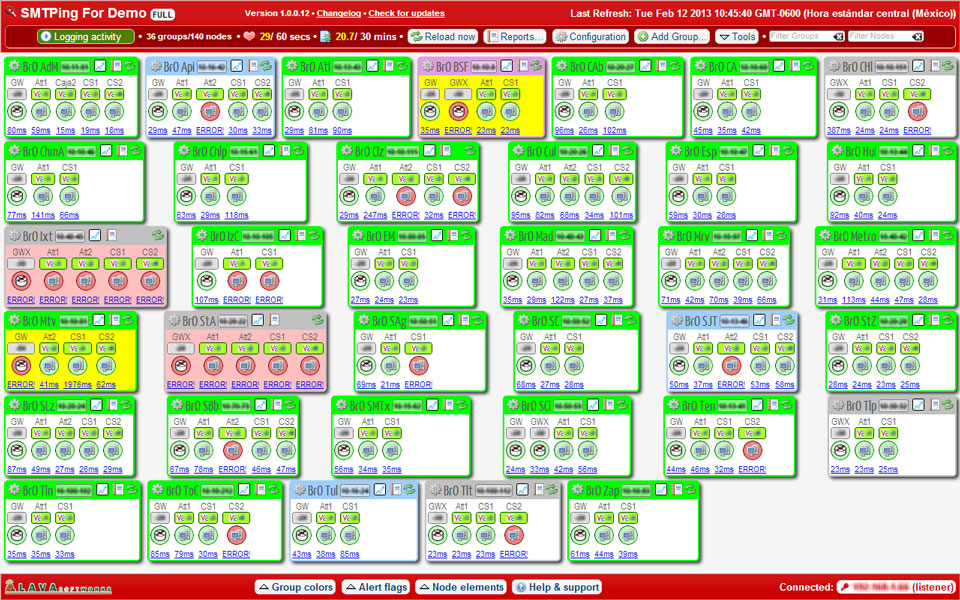 '----------------------------------- SMTPing Dashboard with the "Basic" theme ----------------------------------'
But I decided to go further than that, based on one premise: Why network monitoring tools are so flat? and then I defined the methodology in SMTPing templates to make them fully themable with jQuery UI.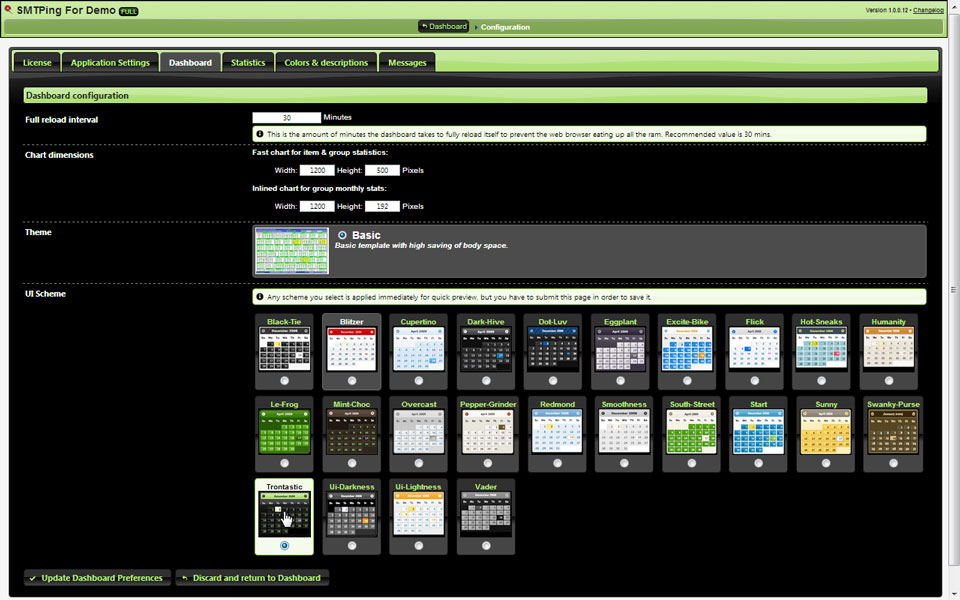 '------------------------------------------ SMTPing UI Scheme selector -----------------------------------------'
SMTPing was made using LAVA Softworks' resources and time, off-hours, working over the nights and weekends. That's why it took almost 4 months to be completed.
I've added a lot of stuff to the original tiny network monitor. I've built a WASP frame around it and made the installer for everyone to check it out, use it for free on small environments and show a bit of appreciation to the time I've invested on it by purchasing a license upgrade for a small fee.
Feel free to check it out! You'll find it on the Downloads page. And if you get any problem, don't hesitate on posting a Help Request here at the forum!
There's a lot to do with SMTPing. You can be sure there will be updates really soon!
Regards,
Alejandro Caballero


---
---