The Style selector
The Style selector is the most important part of the Crafter, because here is where you tell how your image is going to be used in the folder icon.
But here is where you need to have an image for Crafting. So, we're going to use some random image to illustrate every part of this selector.
"Normal" style
This is de default setting for images. Depending on the Folder Template's settings for images, the icon is placed "inside" or "outside" of the folder, in a square or distorted aspect.
Using this style, you can select from two sub-styles shown in the "Set as" droplist:

"Flat" style is simple as it sounds. It will compose your image without any treatment to its pixels.
"Beveled" style will add a bevel effect around the borders of the image. This effect will throw different results for images with opaque background than for images with transparent backgrounds. This style will fit perfectly to images extracted from icon files rather than to full-sized, opaque images.
Flat vs. Beveled
| | | | |
| --- | --- | --- | --- |
| | | | |
| Full-sized "flat" image | Full-sized "beveled" image | PNG w/transparent background "flat" image | PNG w/transparent background "beveled" image |
We have plan for more visual effects for images, so, please keep an eye over the icomancer's website!
Aspect ratio
Well, this small button is not precisely part of the style selector, but the flag internally defined by it has an effect on how images are composed using the "Normal" style.

By default, the Aspect Ratio preservation is ignored by the crafter, so any image fits in the entire area definded for the template to set the icon into.

By clicking over this button, the Aspect Ratio preservation is toggled to ignored to preserved, so the Crafter fits the image in the area without distorting it, as being shown in the next samples:
| | |
| --- | --- |
| | |
| Aspect Ratio ignored | Aspect Ratio preserved |
Please note that those templates who don't treat the "Normal" style as a square or rectangular area, but as a perspective distortion area –like the XP 2012 template– will completely ignore the Aspect Ratio Preservation flag.
"Internal portrait" style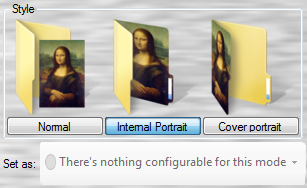 This mode is our improvement over the Windows' standard "Folder Picture" customization type.
While the Window's Folder Picture builds the folder thumbnail from the chosen image file in a very handy way, icomancer's Internal Portrait composes the image in the inner face of the Folder Template, as if your image was imprinted on it.
This mode is handy for folders where you just want to customize with a given picture without nothing else. Well, maybe some color or a texture on the front face…
As you can see, there is nothing to be configured as sub-style for this mode.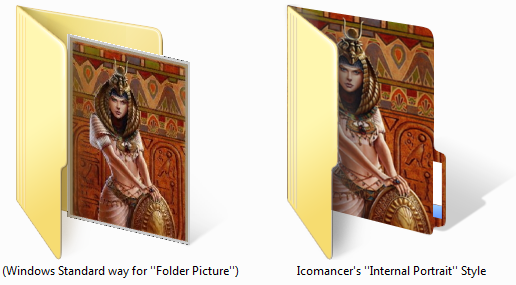 "Cover portrait" style
In this mode, you embed your pictures in the front side of the folder icon:
| | |
| --- | --- |
| | |
| Image as Internal portrait | Image as Cover portrait |
The power point of the Cover portrait style resides in the fact that you can embed an Add-on icon to the folder to define the content type.
Windows basic Folder Content Types
Your Windows user profile contains several folders. Among them, there are five relevant folders:
| | | | | |
| --- | --- | --- | --- | --- |
| | | | | |
| Downloads | My Documents | My Music | My Pictures | My Videos |
Add-on icons: Icomancer's custom Content Types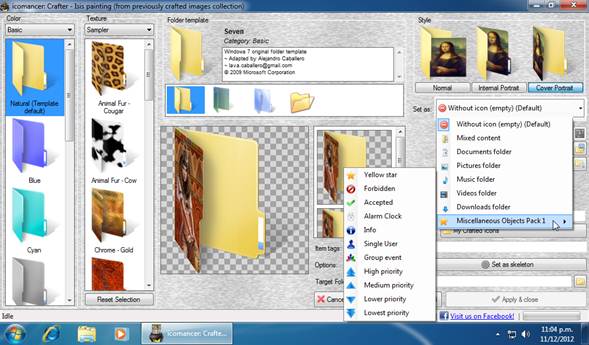 The Crafter styles "Set as" drop down menu for "Cover portrait"
When you set your picture as Cover portrait, you can set the default content types, which depend on the Folder Template, and may seem like the same of your Windows Version:
| | | | | |
| --- | --- | --- | --- | --- |
| | | | | |
| Downloads | My Documents | My Music | My Pictures | My Videos |
But you can also set other content types with Add-on icons. The basic icomancer installation contains an additional package called "Miscellaneous Objects Pack 1" with 11 icons based on Everaldo Coelho's "Crystal Clear Actions" icon pack:
| | | | | |
| --- | --- | --- | --- | --- |
| | | | | |
| Yellow star | Forbidden | Accepted | Alarm Clock | Info |
But icomancer is not limited to that list!!! you can download more add-on icon packs using the Online Collections Browser!