About icomancer
icomancer is a folder icons composer for Microsoft™ Windows® operating systems.
With icomancer, you can quickly identify specific folders among dozens in your storage devices by embodying a special, easy-to-see, nice-with-the-eye icon you craft in a composition window. You can add colors and textures to your folders, imprint your own pictures, embed add-on icons to set the folder content type and share your creations with our community!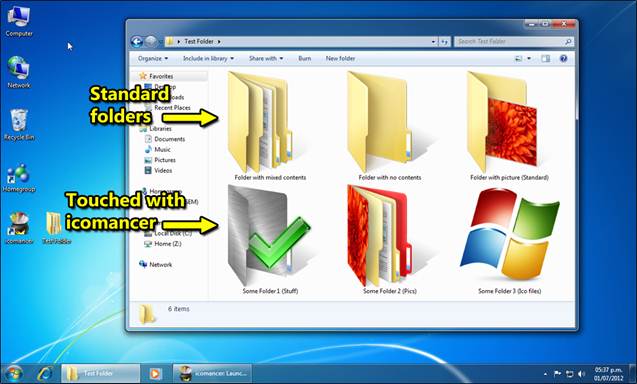 How standard folders look compared to folders touched with icomancer
Compositions made with icomancer are based on content packages:
Folder templates

that match your OS style or theme assigned with a third-party icon customization app.

Color palettes

with color variations and special effects.

Texture packs

with opaque or translucent textures.

Add-on icon packs

used to mark folders by content type.
Every icomancer release is included with basic content packs. By creating an account on our server, you can download additional content packs to extend your local installation, submit your creations, share them with other users and download other users' creations.
Further information can be found at www.lavasoftworks.com/icomancer.