Application Controls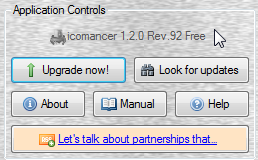 Version and license
Here you will find information about the installed icomancer version and the license mode. Depending on the license mode, you'll either see a button inviting you to upgrade or stating that your license is already upgraded.
When you click over the "Look for updates" button, icomancer will open a special info URL in our website and compare the latest released version information with your current version. If a new version is detected, you'll be notified immediately.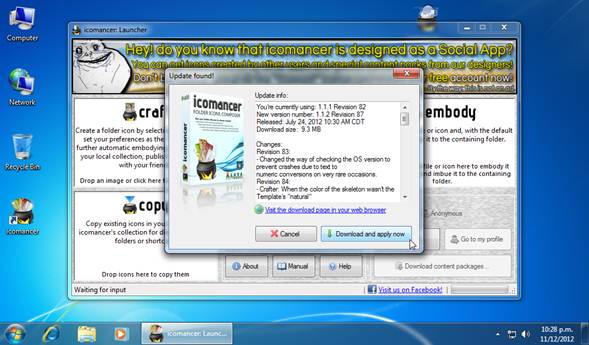 The icomancer updater window –as of version 1.1.1–
Some updates may be critical. In such case, it is strongly recommended to immediately download and apply the update.
icomancer will automatically look for updates at the seventh day after the last manual or automatic check.
About, Manual and Help
You'll notice three buttons pointing to:
· The "About" dialog, which contains detailed information about icomancer.
· The local copy of this manual in your computer.
· The Help & Support forum, where you can see if any problem you have has already been attended by the icomancer's Tech Support Team.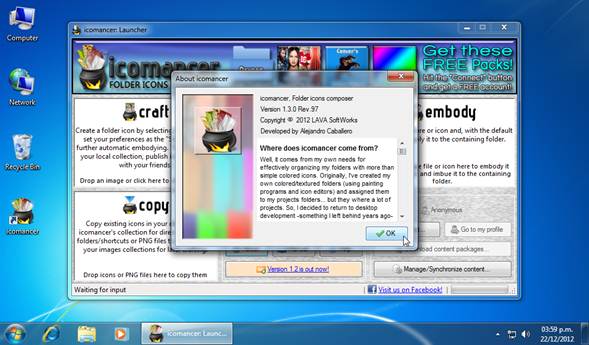 The icomancer's "About" dialog
The news ticker
The last button in this area is updated when you browse online content. It will show an excerpt of the latest news, highlights or forum notices published on icomancer's website. That's a shortcut for you to get up-to-date information regarding content deliveries and important words from our development and design teams.